Appearances
Lyzette will present her work at the Southern Humanities Council Conference, 1/26/23 -1/29/23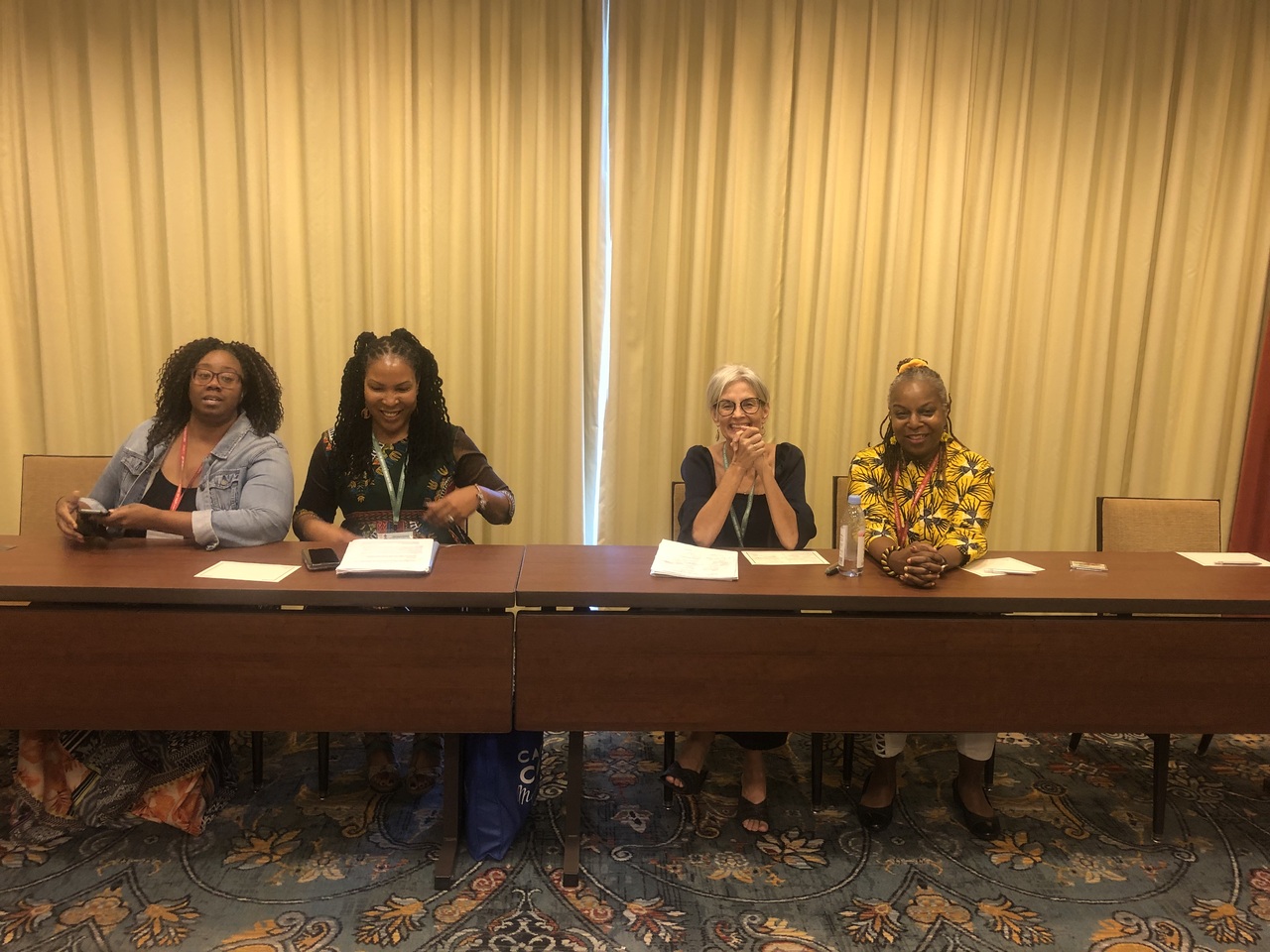 Hear Lyzette read from her book TRAUMA, TRESSES, & TRUTH: Untangling Our Hair Through Personal Narratives, at the SHC Conference in Austin, TX.
More information to follow.
Trauma, Tresses, & Truth's SF Book Launch at Green Apple Books on the Park, 1/16
Lyzette reading at the African American Museum and Library of Oakland on 12/17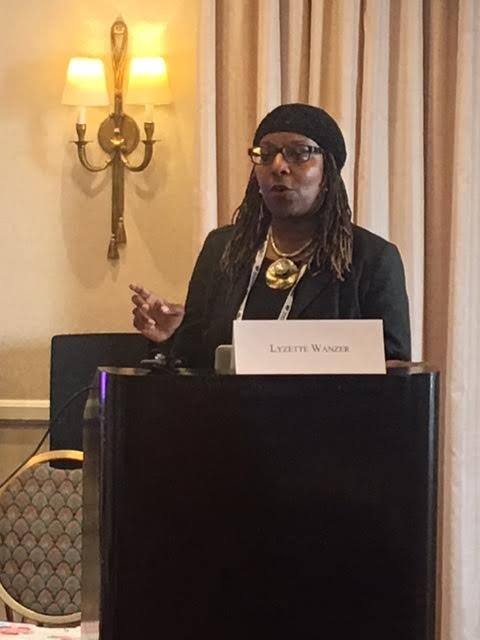 As part of the Meet the Author Holiday Marathon at AAMLO, Lyzette will give an interview, reading, and book signing at 2pm on December 17th. Due to limited seating, registration is required. Reserve your seat at https://oaklandlibrary.bibliocommons.com/events/637bc7d438acf0c46ae02c3e.
Lyzette on Critical Literary Consumption, 12/8
Author Event at Marcus Books, 12/4
Lyzette Wanzer, along with contributors Margalynne Armstrong, Jewelle Gomez, Judy Juanita, Adrienne Oliver, and Kelechi Ubozoh will give readings and do a book signing on December 4th at 1pm. Join us at the store to purchase a book and have it signed!
3900 Martin L King Jr Way
OAKLAND, CA 94609
Lyzette on Author Nation YouTube Channel on 12/1
Lyzette Wanzer will be in coversation with Melody Ann Owens on December 1st, 2022 at noon.
Lyzette Wanzer explores the policing of Afro-Latina and African-American women's natural hair on KALW 11/9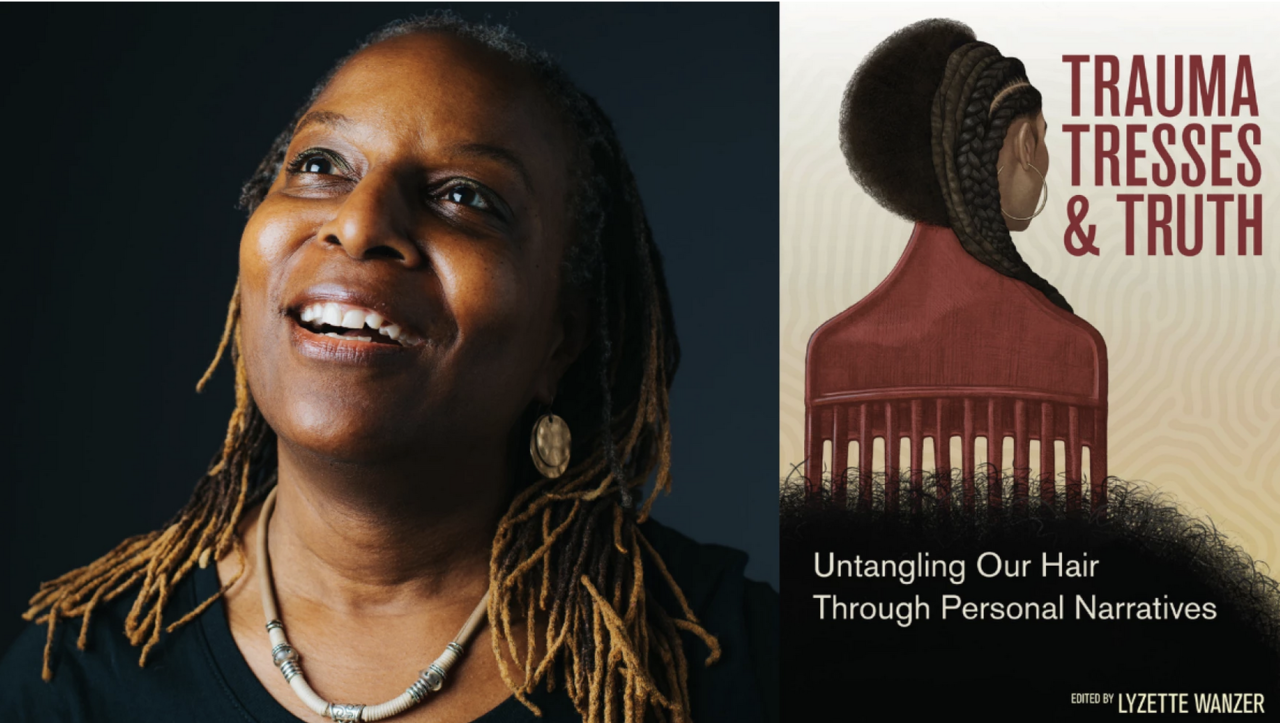 Lyzette Wanzer explores the policing of Afro-Latina and African-American women's natural hair on this New Arrivals segment. Airing during Morning Edition and All Things Considered.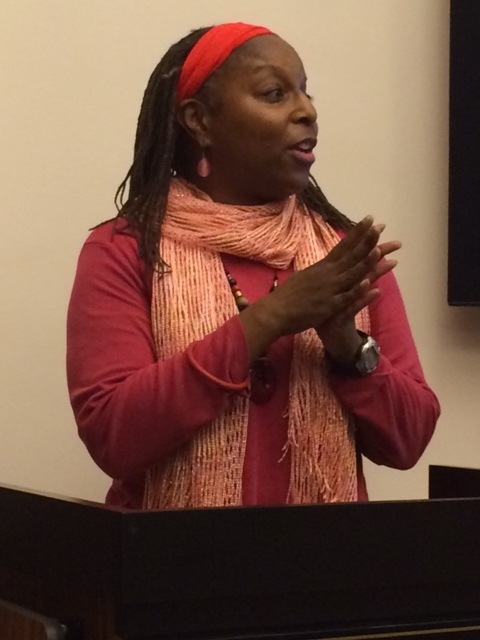 AWP Philadelphia, 3/23/22-3/26/22
Trauma, Tresses, & Truth II
From schools to boardrooms to military squadrons, Black and Afro-Latina natural hair continues to transfix, confound, and enrage members of White society. Why is this still the case? The perception, policing, and persecution of our hair is an incontrovertible form of structural oppression. Four contributors read essays from the upcoming book of the same name (Chicago Review Press 2022). Their work interrogates a systemic bias that is cognizable, legible, and in need of course correction.
Grub Street's Muse & The Marketplace, 4/27/22-5/1/22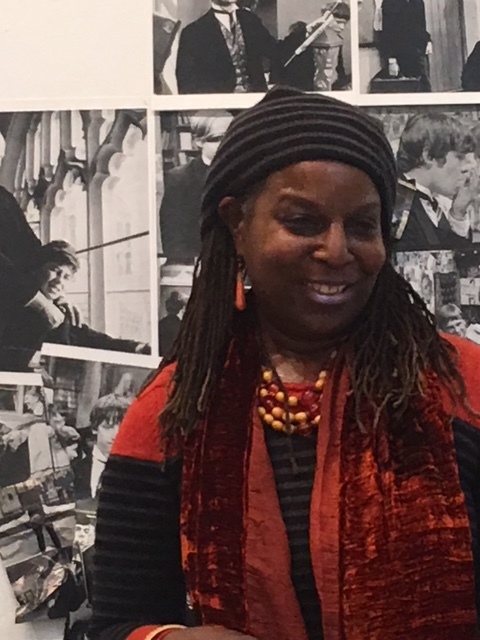 For BIPOC Writers: Get Invited to Read at Literary Conferences
This workshop offers information, guidance, and support to underserved Indigenous writers and writers of color who are applying to have their work—poetry, fiction, essays, and creative nonfiction—accepted at a writers' conference or convention, whether virtual or in-person. You've heard the alphabet soup of these events: ACA, AWP, CEA, MLA, PCA, and so many others. In a safe and supportive environment, we will explore how to choose the right writers' conference for you, prepare a polished submission, make a professional impression, create a conference plan, get financial support to attend, approach concerns that arise for us as attendees of color, and avoid common and costly mistakes in your CV and bio that mark you as an amateur. This workshop is intended for writers of color of all levels who feel prepared to present their work at a professional writers' conference.
American and Popular Culture Association Conference, 4/13/22-4/16/22
1) Education, Teaching, History & Popular Culture Education IX:Thinking about the Theory and Practice of Parenting and Teaching
Finding A Way In:Teaching the Lyric Essay
2) African-American Culture I
Signatures
37th Annual Empowering Women of Color Conference, 4/2/22-4/3/22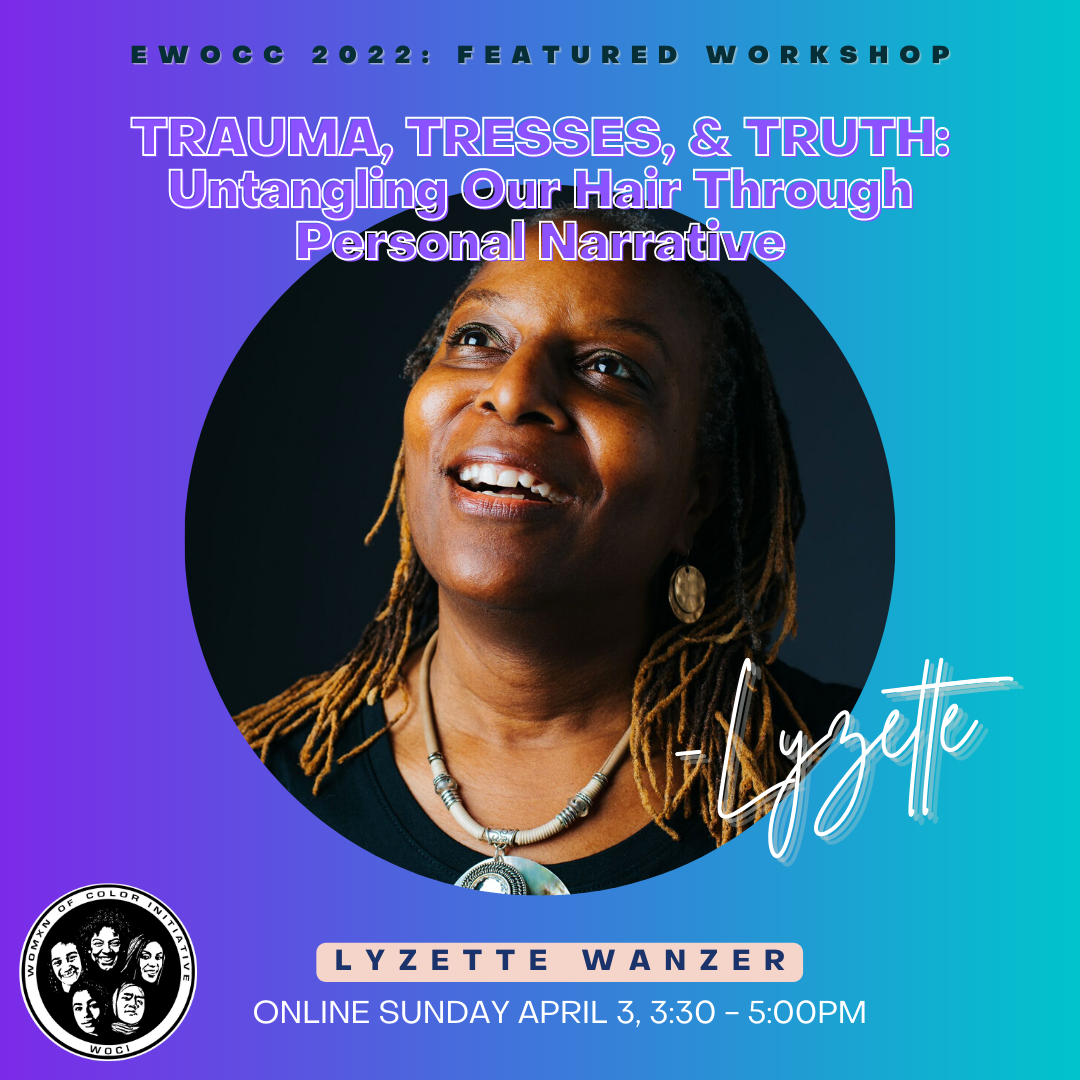 Writing Our Hair workshop
For over four hundred years, Black natural hair has been the target of erasure efforts, demarginalizing us both as African Americans and as women. The various institutional modalities of policing Black women's (and men's) hair is a form of racist politics. Despite structural denials to the contrary, the fact is that our natural hair remains a heretical war zone. Policing of both Black bodies and our natural hair is a form of structural oppression.
I realize that White American society hasn't had to live as racialized beings. The White standard is implicitly the baseline against which all other standards are measured-- precisely the type of lens which problematizes our natural hair. Trauma, Tresses, & Truth—both the upcoming book and the related virtual conference that I produced last August--is my way of encouraging course correction.
This session is intended to be a safe, nurturing, intentional space to write and share your hair stories. We're not after writing perfection in this workshop; we're after exploration and reconciliation. Poems, essays, short stories, hybrid pieces, all welcome. So get out your writing materials, be that a literal notebook, journal, sketchbook, or a screen and keyboard. If emotions come up, be it anger, sadness, outrage, or tears, those emotions are welcome.
SMOL Fair, 3/21/22
Platform Building 101
In the competitive job market, employers look for people with experience. Literary agents and publishers are no different, and the experience they are looking for is called a "platform." This platform, however, is not just the list of your publications; it's the sum of your total footprint [or reach] in the publishing world. This panel will help you design your platform and propel you to the next level of your writing and publishing journey.
Literary agents want authors who have an author platform, a ready-made audience that sees you as a talented writer or a topical expert. The writers, editors, and literary nonprofit leaders on this panel will explore how to build that audience and your profile in the publishing world. Strategies include developing an online presence, networking with writers in your genre, connecting with alumni and community organizations and libraries, and reviewing/interviewing more well-known authors in your genre.
Panel members will first introduce themselves and describe their experiences and strategies for building an effective platform. They will then engage with a panel moderator, who will take them through a set of practical questions on how to build an author platform. Then, the panel will open up to questions from the audience in a fruitful exploration of techniques and stories that will be useful for writers seeking to expand their publishing power.
Trauma, Tresses and Truth: Untangling Our Hair Through Personal Narrative 10/17/21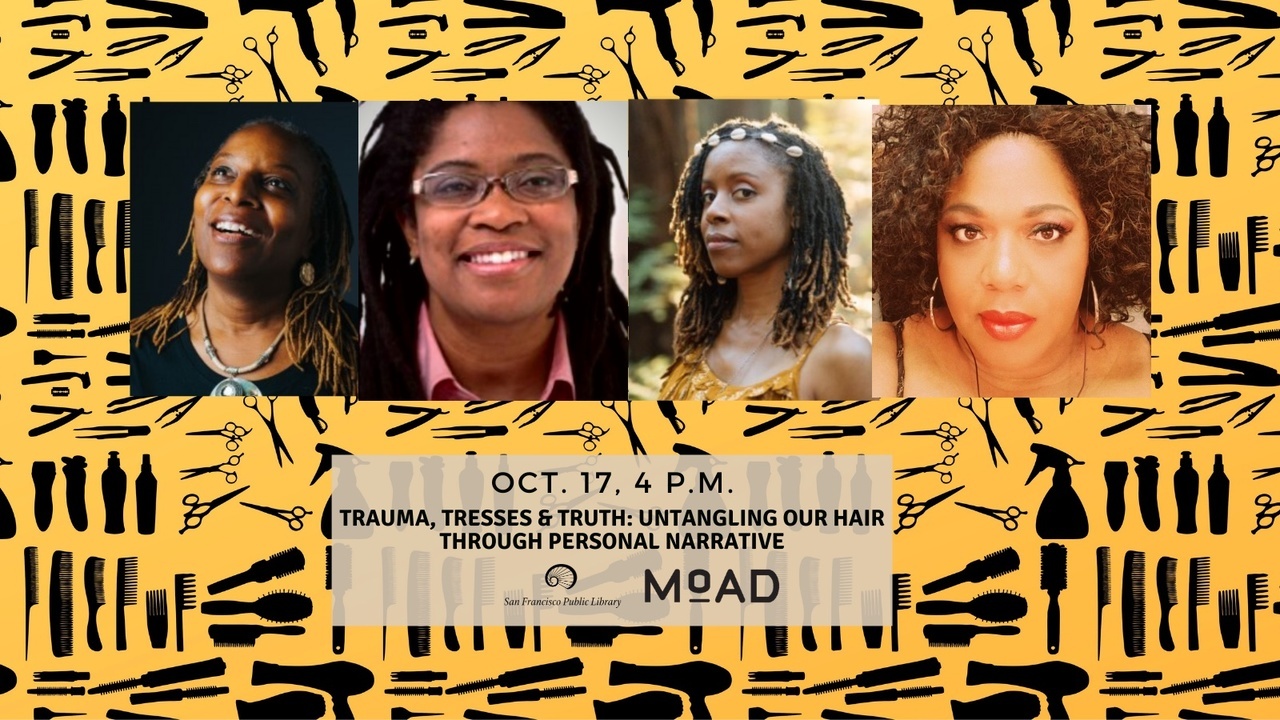 Presented by San Francisco Public Library's African American Center and the Museum of the African Diaspora
Contributors to Trauma, Tresses, & Truth, relate their true, often shocking encounters while wearing natural hair. Featuring Dr. Adrienne Danyelle Oliver, Barbara Ruth Saunders, Kathryn Seabron and Lyzette Wanzer.
Particularly relevant during this time of emboldened white supremacy, racism and oppressive othering, their work explores how writing about one of the still-remaining systemic biases in academic and corporate America might lead to greater understanding and respect.
In her essay "Is Your Hair Still Political?" writer and civil rights activist Audre Lorde explains how she nearly missed a Caribbean vacation because an immigration officer objected to her dreadlocks. Black women's natural hair remains political and persecuted even now.
Inclusion, Confusion & Authenticity in Writing 2/24/21

What do identity and self-representation mean in the context of writing? In the importance of people getting to tell their own stories? Tune into this 90-minute discussion as a panel of diverse authors from across literary styles and genres tackle how to write characters and stories that are not from your own lived experience in terms of ethnicity, economic status, sexual orientation, or gender identity. Lyzette Wanzer moderates. Hosted by California Writers Club and Shuffle Collective.
Desert Nights, Rising Stars Writers Conference, 2/18-2/20/21
As a Teaching Fellow, presented my workshop, The 7 Habits of Highly Effective Writers
Want to be taken seriously as an author, even though you have yet to publish the Great American Novel or place an article in The Atlantic? You need to learn to treat your writing—poetry, fiction, nonfiction—as a business. Believe it or not, one of the best ways of getting the literary world to notice you is to manage the less sexy aspects of your practice. That means realizing that writing is a business, not just an art. Marketing is a critical, often overlooked aspect of our craft. In this session, you will learn seven habits that will enable you to boost your writing career.
Professional Development for Writers of Color
An interactive workshop supporting career growth for creative writers of color. An empowering, vital immersion boot camp. Invest in your professional development! Register at https://dpwc2020.com/contact

Lyric Essay As Resistance: Truth From the Margins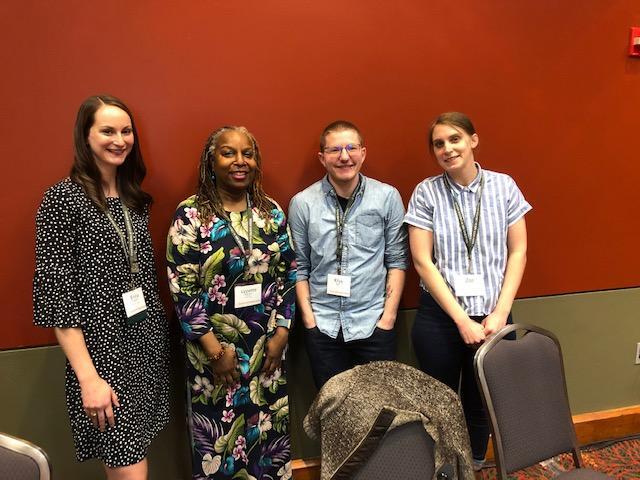 The lyric essay is a subversive genre that ignores cardinal rules of "good" writing—linear structure, clear chronology, plot—in favor of embracing liminality and uncertainty, spaces many marginalized writers inhabit. Despite the focus on (white) women, the lyric essay has long been a form of expression for underrepresented voices in creative nonfiction. Join our diverse group of panelists as we discuss the lyric essay's untapped potential for representation and resistance in 2020 and beyond.Presented at AWP 2020.
REPRISE: Trauma, Tresses, & Truth: Untangling Our Hair Through Personal Narrative
I reconvened and reprised our March 2020 AWP Panel for Shuffle Literary Collective's Weekend of Words event.
Black women's natural hair remains political and persecuted even now. Panelists are African American and Latina authors relating their real-life encounters through personal essays. Particularly relevant during this time of emboldened white supremacy, racism, and oppressive othering, panelists' work explores how writing about one of the still-remaining systemic biases in academic and corporate America might lead to greater understanding and respect.